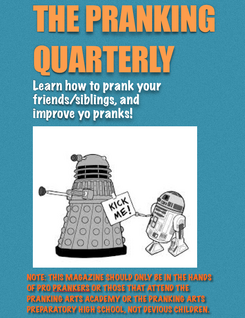 The Pranking Quarterly is a quarterly magazine in The Christopher Show. It was only seen once in Season 9 when it came in the mail. Danny was happy when he received it. He received the June 2014 edition.
Info
The magazine is released quarterly (meaning four times a year) as it says in its name. The magazine features famous pranks, prank inventions, hi-tech pranks and prank inventors.
Pages
Only two pages of the June 2014 edition were revealed, and they can be found here. Pictures of the pages can be found in the gallery.
Page 1
This pages reveals that Danny has appeared in the magazine 713 times in a row. It features one of Danny's inventions, the Buttocks2x-erator and The Burpinator was mentioned. The Direction Planter by Brody Belcher is featured on this page as well.
Page 2
This page features some other (apparently) famous prank inventors, James P. Rominick and Conner Strouskii. Some inventions include The 7DInator, which Danny bought in the episode The 6D, the Hologram Train invented by James P. Rominick, and the Hairstarinator.
Trivia
The magazine appears as if the writers are inexperienced and uneducated, as there are many grammar mistakes and some spelling errors. The writers of the magazine are experienced prankers, so this further encourages the theory.
All of the inventions and inventors mentioned here do not appear anywhere else in the series, except for Danny (obviously) and The 7DInator, which Danny uses in the episode this magazine appears in.
Gallery