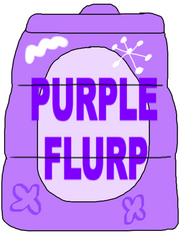 "Purple Flurp: The soda that makes you say [burp]"
―Purple Flurp Slogan as of 2009
Purple Flurp is a soda in The Christopher Show.
Purple Flurp is "the gassiest soda out there". It was founded sometime in 2002 and they had an old TV commercial from 2006. Danny got a job at a local soda shop run by a person named Poochie McGrooder. He found the soda and realized that this can make him belch loud. Loud enough to win the Slurp & Burp Convention. He told Chris this and Chris didn't really approve, but by then it was too late. Danny won the contest and 1% of the money.
Appeared In
Edit